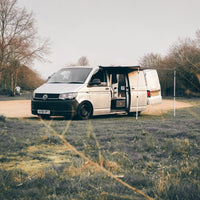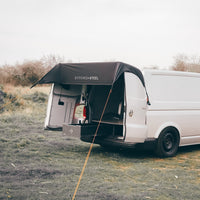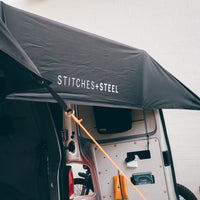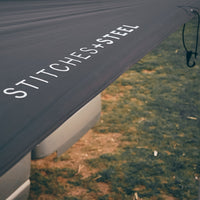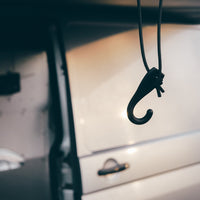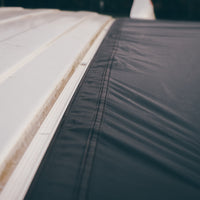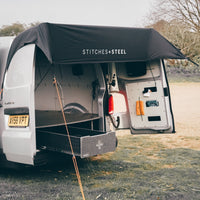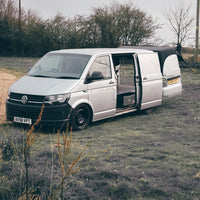 Description
Van Awning One is us unpacking all we've learnt at STITCHES + STEEL selling thousands of awnings over a five year time frame, then applying that learning into one, very simple, innovative product. 

Size; Van awning one is just the right size. You can fit four people under it with a table and due to it's shape and innovative features, it's very easy to attach and rig in seconds. 
Tech; It may look like a square of fabric but that's far from the case. The Dynamic leech shape allows the awning to be pulled tight and 'dipped' into the wind allowing it to work with the weather, just like a sail with clew structure.
The material is a lightweight ripstop with a small amount of stretch built-in, this allows it to be pulled tight without the associated sagging. We've taped and seam sealed it which equals a highly water resistant, adaptable canvas. The Bolt Rope (or Kador strip) is deliberately oversized and derives from the marine sector. It's 7mm size and fits all S+S awning rails along with many others.  
Smart; Guy lines on all four corners allow it to be lashed in an infinite variety meaning it works on any vehicle, with or without an awning rail 
Packaging; Everything in its place. Each corner features hook and loop pockets designed to stash guy lines to avoid knots. We've added sailing inspired cleats to avoid unnecessary tying. The rip stop carry bag is just the right size when folded and rolled around the poles. Not too big, not too small. Same story for the pegs and their own, individual carry bag.
Adaptable; The poles are designed to pack deliberately small. A stealthy, Anodised, Aircraft-grade Aluminium, 4 tiered collapsible unit allowing sub 1m packing dimensions while retaining the ability to extend as high as 3m. 
Dual needs; Van awning One has been built with eyelets and elasticised hooks to work as a 'barndoor' awning. The dimensions, eyelets, pegs and guy lines are deliberately placed to allow Van Awning One the ability to work as both a side awning and as a barn door awning. 
Smart thinking; Van awning one is the REAL world solution of 99% of people's needs when it comes to shelter on the road. Its' sub minute, simple rigging, clear and clean design and dual needs ability tick the box for almost every eventuality. Van Awning One is the ultimate van awning. 
KIT CONTAINS
1 x Van Awning One
210T Ripstop Polyester, PU 3000mm. 
2 x Black Aluminium Poles
4 Sections, collapsing to 790mm.
2 x Pegs
DETAILS
Bolt Rope Length: 2500mm
Bolt Rope Diameter: 8mm
Overall Width: 2500mm
Overall Length: 1500mm
Material: 210T Ripstop Polyester
PU: 3000mm
Packed Dimensions: 88cm x 10cm x 10cm
Weight: 2.8kg 
Fitment 
Van Awning one was designed to work in harmony with the SWB + LWB VW Transporter platform first and foremost, it works with both SWB + LWB along with vans with Spoilers too. 
We spent a lot of time making it as universal as possible too. It'll be entirely compatible with all other varients of van. Vivaro, Movano, Transit etc. We have also fitted eyelets on each corner of the canvass which allows the shorter side of Van awning one to work well with the VW Caddy, Maxi and Transit connect. 
Fitting

If you're not lashing / tying it to your vehicle, our Awning rails are a great way to make using Van awning one a pleasure.  
Universal Awning Rail 
Perfect for any van and very adaptable, either glue, screw or bolt with OEM fixings 
VW T5 / T6 awning rail

A no-surgery, bolt on and go solution for awning attaching 
Multirail 
Perfect for Pop Tops, and the ultimate way of attaching products to your van. 
Got Any questions regarding this product?
Reach out to our friendly crew
info@stitchesandsteel.com

Shipping
Standard UK & Channel Isles delivery on orders over £125.00 FREE.
We use Royal Mail 48 & DHL Parcel for all our standard UK & CI orders.
When your order's been dispatched, we'll send you a confirmation email with your tracking number.

Your parcel will be with you in 3-5 working days (although it can take a little longer at busy times).
Lead Times
Sporadic supply chains, fickle seasons, S+S growing, along with a slew of other factors have created a perfect storm for us to occasionally fumble our stock management (at this point in our journey). Just an honest heads up that if this product is in stock, and you want it, now might not be the worst time to pull the trigger. It may well sell out sooner than you think and it could be a while before you see it here again- We'd hate for you to miss out. 
Returns Policy
We want you to love your S+S products, so if you're not happy with your purchase we are happy to offer refunds on all full-priced purchases and store credits on sale styles, subject to some limited exclusions.
To submit a return please email info@stitchesandsteel.com with your name, order number, the item/s you wish to return and reason for return.
All return details will be provided via email within 2 business days. Please note that any shipping costs incurred for returning items to S+S for a refund or store credit is solely at the customers own expense.
Contact Us
We'd love to hear from you whether you want to feed back on a product, have a returns query, or want to find out when your order will be arriving.
Our Customer Service team is here on hand to answer your queries Monday- Friday, 8.30am- 4.30pm.

Email info@stitchesandsteel.com and one of the Customer Service Team will get back to you or our instant chat service.