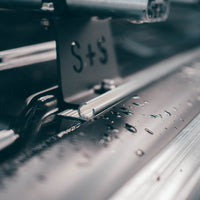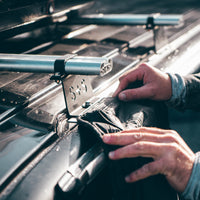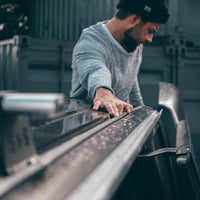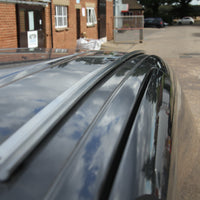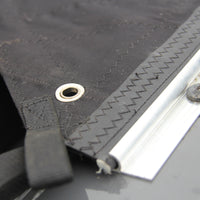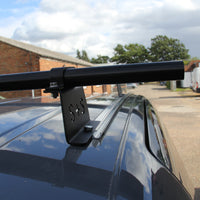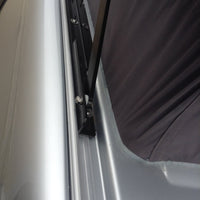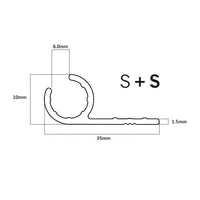 Description
For all you awning attaching needs, the only rail you should need, for any van, including a T5 - T6 (in theory).

We've worked hard and close to home with a UK based manufacturer spec sheet for this one to create an over-engineered, strong and well-made universal piece of kit with a considered and thought out approach to production, application, packaging and shipping.

This is our STITCHES + STEEL Universal Awning Rail. We've developed this one to pretty much fit on anything- fitting all of our products and the majority of others too. We've thought long and hard about the size of the C section, the diameter of the jaws, the beading that runs through the section, the foot size for mounting it and the sections length for shipping and ease of fitting. 
The rail is designed for 'car derived vans,' 'short wheel base vans', 'long wheel base vans' and 'motor homes,' working with most roof racks, roof bars and pop tops. The rail can be stuck, screwed, bolted or glued into place, we've had great results using all depending on the application.

We recommend you fasten all sections down with screws (at least two on each section, or better still, the factory bolts on the roof of your van). This Awning rail is designed to go with all STITCHES + STEEL awnings and products taking bolt rope (or kador strip) sizes from 6.5mm to 10mm. (the jaws of the C section are deliberately narrow meaning it can usually take smaller rail strips without being pulled out too).

KIT CONTENTS
Option: Two sections (car derived vans)
Two sections of rail, each measuring 880mm long, a total of 1760mm long assembled together, perfect for small awnings on car derived vans. This setup will fit a variety of car derived vans including the VW caddy, Citroen Berlingo, Ford Transit Connect, etc.

Option: Three sections (SWB Vans)
Three sections of rail, each measuring 880mm long, a total of 2640mm long when assembled together, ideal for most awnings on most vans. This rail will fit almost all SWB Vans including, VW T4's, T5's and T6's, Renault Traffics, Ford Transits, Vauxhall Vivaros, etc.

Option: Four sections (LWB Vans)
Four sections of rail each measuring 880mm long, a total of 3520mm long when together. This rail will fit almost all LWB Vans including LWB T5's, T6's, Caravans, Motorhomes, Boats...(!), etc.

DETAILS
Each section of rail measures: 880mm (L), 35mm (W)
C-Section Diameter: 10mm
Jaw Opening: 6.5mm
This rail can fit awnings with Kador strip/ bolt ropes measuring 6.5mm- 10mm in diameter.
SHIPPING
Free shipping for mainland UK. 

FAQ
Click HERE to see our full list of frequently asked questions. If you can't spot the answer to your query, drop us a mail and one of the team will be right back with you.
FITTING GUIDE
* PLEASE NOTE: This rail is now sold with fixing screws not tape as mentioned in the video below. 


FAQ's
Will this fit my STITCHES + STEEL Awning?
Yes, we've developed these with S+S products in mind first and foremost, we have also tinkered with the dimensions which means they also work with Vango, Driveaway kits, figure of eight adaptors and almost every other accessory we've came across making them incredibly universal.
Will they fit under my roof bars?
90% of the time yes. The best way to understand if it will is to mount your roof bars on your van and see if their is an area of about 40mm next to the foot of the roof bar (where it attaches to the van) and the edge of the gutter, where the C section will sit and wont interfere with anything. If there's space there you're good to go, if something is interfering (like the gutter of the van) then this might not be the rail for you. That said, we've had great results chopping sections of the C section out (see pictures for examples of this) where the foot sits with the awning then passing out of one section, around the foot and back into the next part of the section.  The rails are very easy to modify and work with. We also make a 'raised rail' which, if in doubt might be a better option for your roof bars. 
Do you make them in single long 2m, 3m, 4m lengths? 
No. We have attempted in the past to send longer sections however, damages en-route along with the hefty £25 postage make this unviable. To be totally honest, there's very little difference once applied if fitted well.
How long will it take to arrive?
Each order is hand picked, packed and sent at our HQ. We use Royal Mail and while those guys state two working days they've been known to arrive sooner. They do have a habit of being hidden in sheds, recycling bins, etc. occasionally, so please check around the house before getting in touch if your order hasn't arrived and it's showing as delivered. Please also give us a chance to deliver within the shipping window we've given you. The tracking number provided will only work once delivery has been attempted. Strange we know. 
Will this fit your particular variant of van?
Yes, we whole heartedly believe so, between this rail and the other two we should have you covered for every eventuality. If you're not sure- grab a tape measure and check your van. We also have a raised version of this rail and also a 'multirail.' Feel free to check those adverts and our other products for adventures on the road if you get a chance too.
Shipping
Standard UK delivery on orders over £125.00 FREE.
We use Royal Mail 48 & DHL Parcel for all our standard UK orders.
When your order's been dispatched, we'll send you a confirmation email with your tracking number.

Your parcel will be with you in 3-5 working days (although it can take a little longer at busy times).
Looking to have this product installed?
The Custom Haus: See it as our own Garage, It's our own outlet for our creativity. It's where the design, prototype and manufacture of all S+S products starts, it's also where they finish.

The Custom Haus is the supply and fitment of STITCHES + STEEL products onto, into or around a Contemporary Moving Space.

Click here to book your install.
Returns Policy
We want you to love your S+S products, so if you're not happy with your purchase we are happy to offer refunds on all full-priced purchases and store credits on sale styles, subject to some limited exclusions.
To submit a return please email info@stitchesandsteel.com with your name, order number, the item/s you wish to return and reason for return.
All return details will be provided via email within 2 business days. Please note that any shipping costs incurred for returning items to S+S for a refund or store credit is solely at the customers own expense.
Contact Us
We'd love to hear from you whether you want to feed back on a product, have a returns query, or want to find out when your order will be arriving.
Our Customer Service team is here on hand to answer your queries Monday- Friday, 8.30am- 4.30pm.

Email info@stitchesandsteel.com and one of the Customer Service Team will get back to you or our instant chat service.