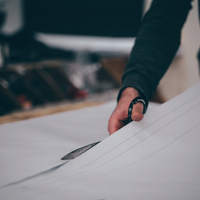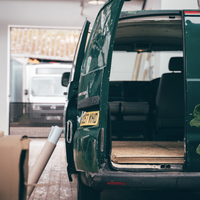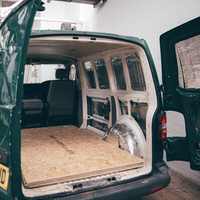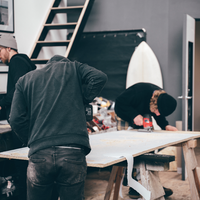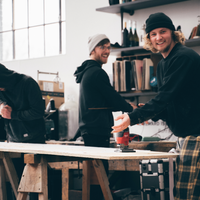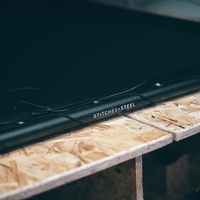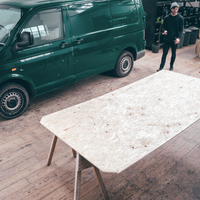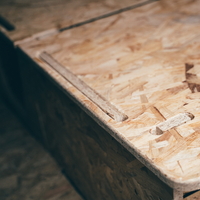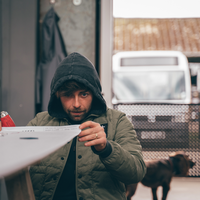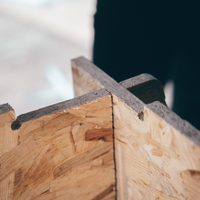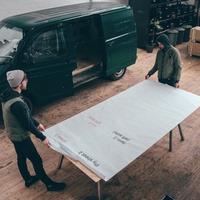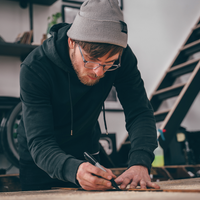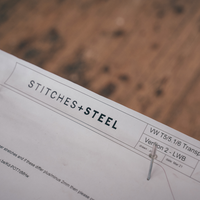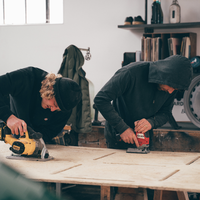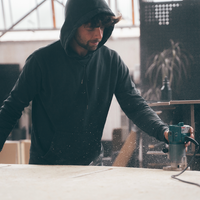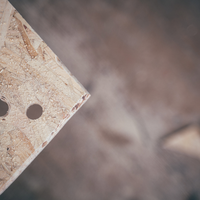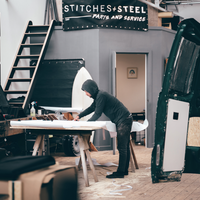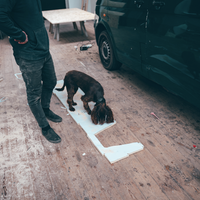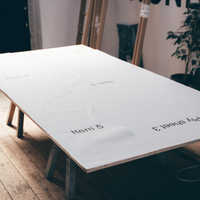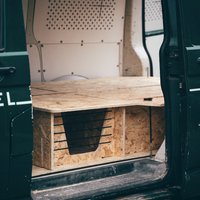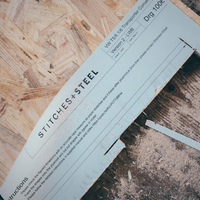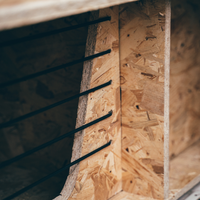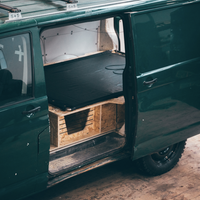 Description
Built not bought. Your van. Built by you. 'There is enormous satisfaction to be gained from building and racing your own boat' - G. Wilkins, Mirror Racing, 1960.' 

The foundation of using these modern-workhorses daily as a vehicle and as a means of escape at a moments notice is simplicity. This modern concept is being feasted on by an inspired bunch and that same, the particular individual who is partaking, more often than not, just so happens to be a handy one.

'The reward is in the doing of it.' B. Munro

We've been using CNC machines (and still do) to make the elaborate, beautiful, perfect shapes which when combined with other shapes, make the perfect conversions we're so accustomed to be fitting here daily at S+S. As beautifully refined as these shapes are, to date we have been the ones slinging them in vans. After many an email asking if our conversion was available to send further afield, it got us thinking and in turn, figuring out a notable disconnect from the folks we so regularly met with and the skills they possessed to construct a similar thing, whilst also being the full time end user. The understanding of what that means and the embodiment of that ethos is what this is all about.

'It's easy to know, it's different to understand.'

What's this whole show about?
This is us putting the build in your hands. Empowering you, the builder. We're supplying you with all the essentials with none of the laborious measuring, height clearances, exact placements, etc. necessary to make it go together as it should.

We're supplying you the plans to build your own van conversion.

KIT CONTAINS
Option: S+S false floor van conversion plans.
Designed for the Volkswagen T5/ T6 SWB + LWB. 

Option: S+S false floor van conversion plans + Carbon drop down bed.
Designed for the Volkswagen T5/ T6 SWB + LWB. One set of Plans and the Drop Down Bed Kit; 90-degree A4 Stainless brackets, 2mm Gottifredi Maffioli Black Dyneema, Large working load cleat hooks, High load ball bearing blocks via M5 A2 Stainless Eyebolts, Black Dacron canvass bunk, Carbon Tubular frame, Carbon rear control plate with cam cleat and low friction ring release

EXTRAS REQUIRED
Not much- We love the thought of you getting a friend to help out (they'd also prove handy for lifting) but aside from a mate if there's one around the list below wouldn't go a miss...

Two trestles make things pleasant...
A jigsaw
A drill + drill bits
Sandpaper
Adjustable spanner /spanners /socket set
4 x Sheets of 8" x 4" material (your choice, we tend to go for a Birch Ply/ OSB Board)
FAQ's
What's involved? Am I skilled enough? Long story short, Yes. If you're nervous with power tools you can get away without them, they just speed things along. We like to think of this as 'Ikea Flat Pack' furniture, with you spending the time cutting out the shapes (and without all the missing parts).
What if I want to make mine differently? That's why we've made them available in 'plan form.' For you to do just that, get creative.
Need room for the long surfboard? Cut the hole for it. The Motorbike needs to fit? Put a hinge in the top sheet. Need to remove it occasionally? Use wing nuts rather than bolts. We're supplying you with the plans which can be followed religiously or used as a guide to let you achieve your own vision of how we think a contemporary moving space should be. #howwillyoubuildyours.
Anything else I should know? Probably.. It's important to remember this isn't an exact science, what you'll make might not be perfect either. That's what this whole show is all about. If we've missed anything you need to know please get us via thecustomhaus@stitchesandsteel.com and we'll be back at you ASAP.
Lead Times
Please allow up to 3 Working Weeks for the printing, packing and shipping. 
Shipping
Standard UK & Channel Isles delivery on orders over £125.00 FREE.
We use Royal Mail 48 & DHL Parcel for all our standard UK & CI orders.
When your order's been dispatched, we'll send you a confirmation email with your tracking number.

Your parcel will be with you in 3-5 working days (although it can take a little longer at busy times).
Returns Policy
We want you to love your S+S products, so if you're not happy with your purchase we are happy to offer refunds on all full-priced purchases and store credits on sale styles, subject to some limited exclusions.
To submit a return please email info@stitchesandsteel.com with your name, order number, the item/s you wish to return and reason for return.
All return details will be provided via email within 2 business days. Please note that any shipping costs incurred for returning items to S+S for a refund or store credit is solely at the customers own expense.
Contact Us
We'd love to hear from you whether you want to feed back on a product, have a returns query, or want to find out when your order will be arriving.
Our Customer Service team is here on hand to answer your queries Monday- Friday, 8.30am- 4.30pm.

Email info@stitchesandsteel.com and one of the Customer Service Team will get back to you or our instant chat service.