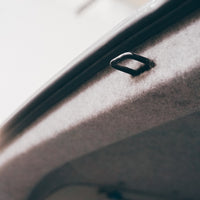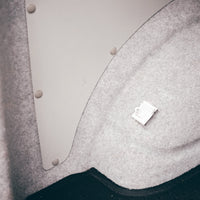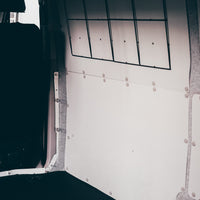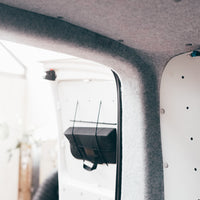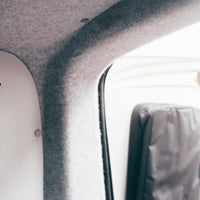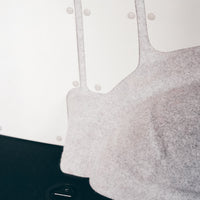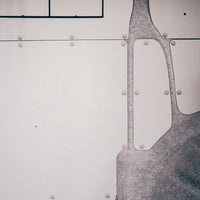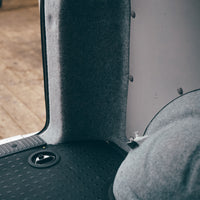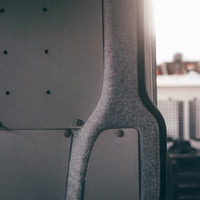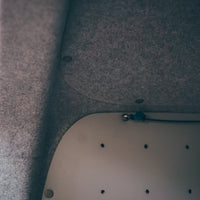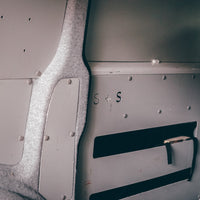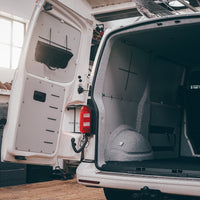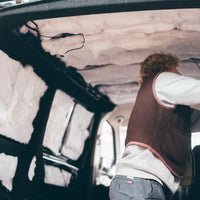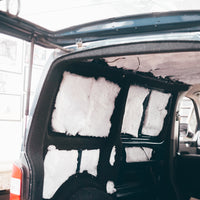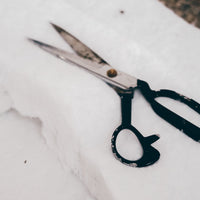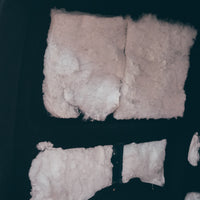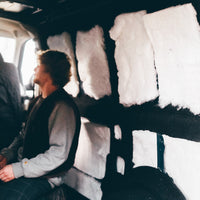 Van Insulation + Lining Service
Description
The STITCHES + STEEL Van Insulation + Lining service is the premium and bespoke tailored and fitting of insulation and lining into a vehicle.
The service is to insulate and carpet the rear walls and rear doors of the vehicle while working in harmony with STITCHES + STEEL's modular lining storage panels which are included. 

The S+S Insulation and carpet service does away with plywood and utilises S+S, ECO interior panels shaving 150kg from the official VW supplied panels.

This service is available in Silver-Grey which matches our S+S lining panels, or Dark Anthracite which is an attractive contrast.
THE DETAILS
We use Dodo thermo fleece insulation which has Excellent acoustic dampening along with temperature stabilisation to suit all seasons. Our carpet lining is the best marine grade quality available. This blend of fibre when spun, has an extreme resilience to wear, water wicking capabilities while retaining an attractive appearance. The combined insulation, carpeting and S+S lining panels create a warm and quiet 'cabin-comfort' ambience while utilising all the apertures for smart storage with our Store Doors and Elastic fasteners.
This service and price is inclusive of the S+S Lining panel kit, inc doors store + Elastic fasteners (individual RRP £375 / £400)

For this service we need your van for one full day. If you're not delivering your vehicle 'bare', we charge a £100 removal and disposal fee for existing panels.

If the S+S insulation + Lining service is being installed in conjunction with any other S+S Conversion / Custom Haus products, please check in the friendly crew at the Custom Haus before purchasing (you might be eligible for a 'full build' discount) thecustomhaus@stitchesandsteel.com 
Lead Times
Our current lead time for Installation is 2- 4 weeks. Please check our booking calendar for the next available slot.

Don't wait, our lead times are subject to change. During busy periods, in the run up to Christmas, whilst we have offers running, or after a product launch, our build slots can fill up fast.
You're welcome to email if you have specific requirements or would like a more detailed outline of our current dispatch times and the product.
Contact us at thecustomhaus@stitchesandsteel.com
How does install work?
The Custom Haus: See it as our own Garage, It's our own outlet for our creativity. It's where the design, prototype and manufacture of all S+S products starts, it's also where they finish.

The Custom Haus is a space for the supply and fitment of STITCHES + STEEL products onto, into or around a Contemporary Moving Space.
Located on the East Coast, in Essex- Unit 2, The Old Joinery, Maldon Road, Birch, Essex, CO2 0LT
Contact Us
We understand that these products are substantial purchases and they might require more explanation than what's provided in the description. You're very welcome to mail our friendly and experienced crew over at thecustomhaus@stitchesandsteel.com who will happily help or walk through any questions or queries you may have. 
We're on hand to answer your queries Monday- Friday, 8.30am- 4.30pm.