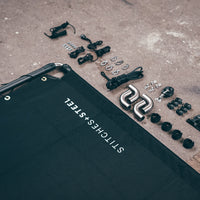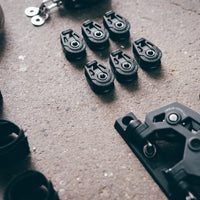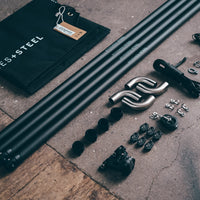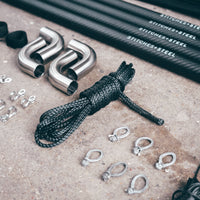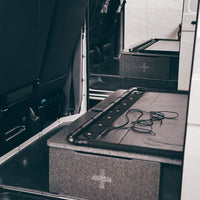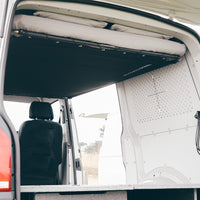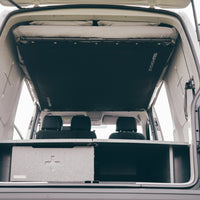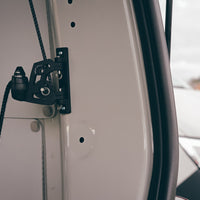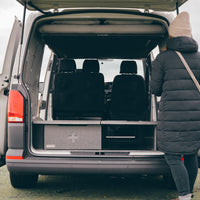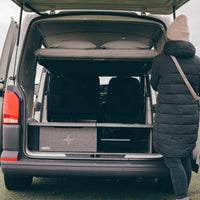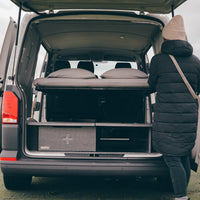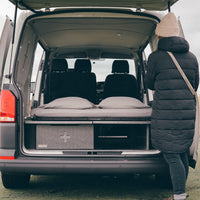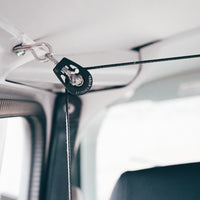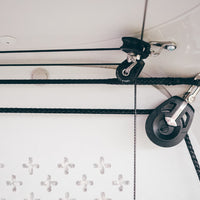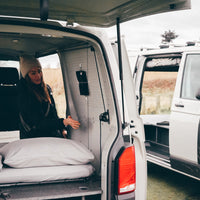 Description
The ultimate, less-is-more solution for anyone looking to retain the use of the functional space within the back of the van along with the added utility of your full size double bed being stored in the roof and usable in seconds. 
These kits are rigged and installed in-house and are the epitome of Sailing based DNA working in harmony with life on the road. 
KIT INCLUDES:
90-degree A4 Stainless brackets. 
Dyneema line x 14m
High load cleats, blocks and hardware
High load ball bearing blocks via M5 A4 Stainless Eye Bolts
S+S 180 Degree Swivel Cleat
Black Dacron canvass bunk
Carbon Tubular frame
Associated A4 stainless screws and deck gear.
Please reach out to the friendly crew at info@stitchesandsteel.com who'll happily answer any questions you may have regarding this product. 
FAQ'S
Can I sleep in it while it's 'in the air'? Unfortunately not, people get up to all sorts of things in bed and with that, along with heavy focus on weight saving they're only rated to be used flat 'on the deck'.

Will it fit in my van? While this kit is for a Volkswagen T5 / T6 there are very few other vans we've struggled to fit them too. So long as your van is a similar size to the T5 chassis you should be ok however you might have to be of the understanding that it might require a little 'off piste' thinking to install it. Please reach out via thecustomhaus@stitchesandsteel.com and we'll advise you the best we can. 

Does it come with a mattress? It'd be very easy to say yes however, we appreciate you might not adhere to the same comfort levels as us. Our dream go-to mattress is available from our friends over at Andes. It is waterproof, extremely light weight and has adjustable inflation allowing for soft - hard. Very reasonably priced and fits PERFECTLY too.  The 'Andes Explora 10cm Double' is your friend.

How invasive is the install? Not very, the self cutting self tapping screws supplied are very user friendly and easy to use. The anchor points are deliberately discrete along with being utilised for their strength. 

What is it for? 99 days out of 100 vans are used for their sole purpose, a van. This kit allows a van to be used as intended, a functional moving space. This setup has a heavy focus on retaining that while at a moments notice having the ability to utilise one of the biggest, comfiest beds in the camper-van sector.

Can I keep my bedding on it? Absolutely. A standard double sheet, double duvet and normal pillows are the suggested setup and our own vans are always rigged and ready.

How much space does it take up? The carbon frame is 1300mm x 1950mm and while it is designed to fit snugly in the roof of a T5/6 it should fit most medium/large vans. Our favourite mattress is 10cm add a few extra CM's for the duvet along with the natural 'dome' in the roof you loose very little. It will work with SWB + LWB Kombi vans so long as the passengers in the back are no taller than 6ft.

I am scared of installing this product myself, can you do it for me? Very little can go wrong while installing this kit, we're at the end of the line should you need any assistance and if you can assemble flat pack furniture and possess a drill, you'll be more than capable. You're welcome to jump on a call with one of the team to talk you through the product before purchase or if help is needed with rigging.
Lead Times
Please note that each kit is measured, rigged and assembled here, then packed back down. We aim to ship them as soon as possible during busy periods it can take up to 2 weeks.
Shipping | Click + Collect
Standard UK & Channel Isles delivery on orders over £125.00 FREE.
We use Royal Mail 48 & DHL Parcel for all our standard UK & CI orders.
When your order's been dispatched, we'll send you a confirmation email with your tracking number.

Your parcel will be with you in 3-5 working days (although it can take a little longer at busy times).
Returns Policy
We want you to love your S+S products, so if you're not happy with your purchase we are happy to offer refunds on all full-priced purchases and store credits on sale styles, subject to some limited exclusions.
To submit a return please email thecustomhaus@stitchesandsteel.com with your name, order number, the item/s you wish to return and reason for return.
All return details will be provided via email within 2 business days. Please note that any shipping costs incurred for returning items to S+S for a refund or store credit is solely at the customers own expense.
Contact Us
We'd love to hear from you whether you want to feed back on a product, have a returns query, or want to find out when your order will be arriving.
Our Customer Service team is here on hand to answer your queries Monday- Friday, 8.30am- 4.30pm.

Email thecustomhaus@stitchesandsteel.com and one of the Customer Service Team will get back to you or our instant chat service.