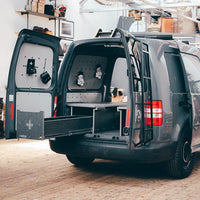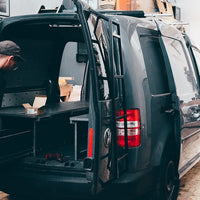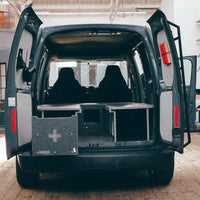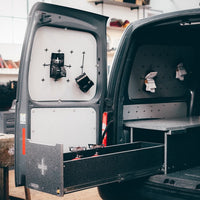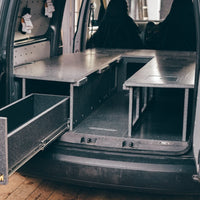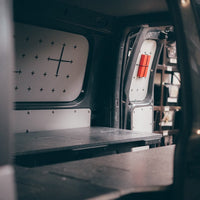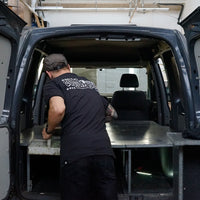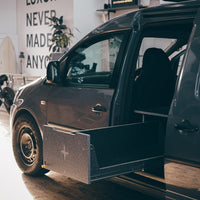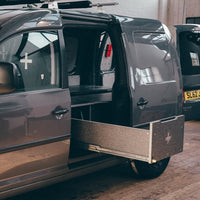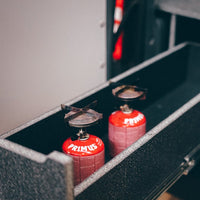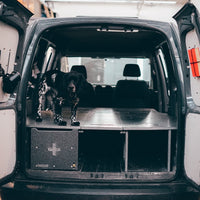 Description
The Stitches + Steel Caddy Maxi Conversion, a non invasive, flat-pack system that unlocks the full potential of your Volkswagen Caddy Maxi. The development of these kits has been an exciting milestone for S+S
SIMPLICITY
Sitting neatly within the S+S false floor range, the Caddy Maxi Conversion is a non-invasive build. Slotting together within the van, then being pulled down directly into the floor of the vehicle as you tighten the bolts, pulling the conversion together for a secure, strong and lightweight setup.
EVERYTHING IN ITS PLACE
The combination and synergies of both soft, hard and marine based materials have allowed Caddy Maxi Conversion to be strong, useful and beautiful. The relationship between the materials allows ev
ery inch of the vehicle to be utilised. Everything you need, nothing you don't.
BUILT FOR ADVENTURE
Beers, bikes, big things! The 100kg load-rated drawer is a cavern, your 'Boot'. Hauling the essentials with a neat, user friendly system allowing easy access to all you need. Built in tie down points and letter box style canvas pockets give you access to the tools and toys that have always needed a home.
THREE MATERIALSECO - GOOD FOR YOUR VAN, GOOD FOR THE ENVIRONMENT
A 19mm eco, plastic-composite blend which is not only light, it's water resistant and beautiful to look at.
HEX - STRONG
HEXA Ply creates a robust, good looking conversion at an affordable price.
S+S utilises OEM fastenings and apertures. It's this maximising of useful space and using it in the right way that assures a light weight, bright and airy feel. Infinite stowage systems equal less rattles, more storage and more fun behind the wheel.

PLY - YOURS TO MAKE YOUR OWN
Sustainably sourced 'Koala' plywood, naked and unfinished. Leave it bare or paint it to match your style. 
MORE OPTIONS MORE SENSE
The Caddy Maxi Conversion has been developed to seamlessly work with other S+S interior accessories. First and foremost, these False Floors are lightweight, multifunctional storage solutions. They are designed to work seamlessly with our
lining package
.
KIT CONTENTS
False Floor Module

Large Rear Drawer Box

100kg Capacity Self Locking Drawer Runners

Stainless Steel Fixings
DETAILS
Total Floor Weight: <100kg

Floor Height: Approximately 325mm

Floor length: Approximately 2100mm (Top Sheet)

Floor width: Approximately 1450mm (Top Sheet)

100% Recycled and Recyclable Material Options

Drop Down Storage Pockets
*Please note, our lead times are constantly changing, to avoid disappointment make sure to check the lead times tab below before you place your order.
Lead Times
Your new Stitches + Steel False Floor module is cut and made to order.
Our current lead time for Kombi Short/Long Installation is 2 weeks. For all other false floors it is 2 weeks. Please check our booking calendar for the next available slot.

Don't wait, our lead times are subject to change. During busy periods, in the run up to Christmas, whilst we have offers running, or after a product launch, our build slots can fill up fast.
You're welcome to email if you have specific requirements or would like a more detailed outline of our current dispatch times and the product.
Contact us at thecustomhaus@stitchesandsteel.com
How does install work?
The Custom Haus: See it as our own Garage, It's our own outlet for our creativity. It's where the design, prototype and manufacture of all S+S products starts, it's also where they finish.

The Custom Haus is a space for the supply and fitment of STITCHES + STEEL products onto, into or around a Contemporary Moving Space.
Located on the East Coast, in Essex- Unit 2, The Old Joinery, Maldon Road, Birch, Essex, CO2 0LT
Contact Us
We understand that these products are substantial purchases and they might require more explanation than what's provided in the description. You're very welcome to mail our friendly and experienced crew over at thecustomhaus@stitchesandsteel.com who will happily help or walk through any questions or queries you may have. 
We're on hand to answer your queries Monday- Friday, 8.30am- 4.30pm.
FAQ's
Currently we are unable to provide a shipping service for any of our false floor units. While we work on this we offer free installation (and coffee) here at our studio.
If you can't make it to us we're happy to talk you through collection options that we have had success with in the past. Get in touch and we'll see what we can do.
Depending on how many goodies you're having fitted by us, installation ranges from a couple of hours through to a whole day.
We never require your vehicle for more than a day.
Our False Floor units can be removed/transferred with a handful of tools in very little time at all. All of our conversions use factory VW tie down points so there are no scary hidden holes for you to make in your new van.
SWB/LWB PANEL
Rear Drawer: 435 x 1110 x 195mm (w x l x h)
Side Drawer: 435 x 555 x 195mm


KOMBI SHORT/LONG
870 x 980 x 435mm

KOMBI NOMAD
505 x 980 x 435mm

CADDY SHORT
260 x 1080 x 240mm


CADDY MAXI
Rear Drawer: 260 x 1080 x 240mm
Side Drawer: 440 x 1135 x 240mm

CADDY MAXI LIFE
870 x 980 x 220mm